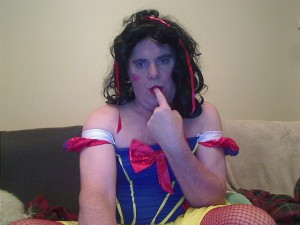 I took a Taxi cab from my place to Club80 as soon as I left Your chat with me. I was nervous but drunk which gave me the courage. When I got to the door of the club I was expecting it to be quiet as its a sauna but I heard big disco noise from village people . They asked me if I was a member but I said first time so they said $20. I paid it and then they said only nude to get in and gave me a locker key to put my clothes. I was stunned…never been before and didn't want to get naked.
They said I could wear my underwear and that's when it went all bad for me. I forgot I was wearing panties and all I heard was wolf whistles and I couldn't get to the bar fast enough. I sat just in my underwear on a stool at the end of the bar in my sneakers. They said everyone must wear sneakers as it gets sloppy on the ground. I found out later why. I just sat at the bar by myself and the barman gave me 3 bourbons!! I don't even drink bourbon but he said the four guys at the couch bought me them. I just smiled at them and looked away. On all the tv screens was gay porn with the guys whistling and moaning looking at them. It made me feel very uncomfortable to say the least. I went for a walk and could see small cubicles and heard people in them playing…yuk……walking just in my panties made me feel like a slut….I had to go back to the bar to drink….and…6 bourbons on the bar for me!!!. The couch guys kept winking and eventually came over pinching my butt…I hated it and in a normal bar I would walk out but my clothes were in a locker!!… I told them I was straight but they just brushed it off and was chatting me up……..I just got pissed and laughed at their dumb jokes….I thought going to a sauna would be like a good massage…this place was sleazy as sleazy can get….it had computers but I never saw what they were for…too stunned I guess.
written by fagarella
Note from Princess Sierra:  This sissy is available to meet other sissies and give blowjobs in and around Melbourne, viagra generic purchase AUSTRALIA .  he's extremely weird.  Pay him for his services and all proceeds will go to PRINCESS SIERRA's Foundation of Cash Grabbing Lesbians.
Please follow and like us: